Madeleine The Magician is this charismatic multi-talented New York Magician who is always requested because her magic shows are not only impressive, exciting and engaging, but fun.
Madeleine's reputation amongst her peers is wide spread. This circle of magicians knows that her shows are always perfection personified and for this reason they always recommend her for any party or event.
This female magician involves her audiences as no one else can. Madeleine The Magician puts the "P" in PIZZAZZ. She is truly one of a kind!
Madeleine creates her Adult Close Up and Strolling Magic Shows to be impressive, sophisticated and mind-blowing. Her wit, charm and intelligence will make you feel proud that she was the entertainer dressed in her Tuxedo, chosen by you to perform for your guests.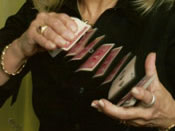 Card Magic and Madeleine The Magician are synonymous. Cards are her forte. Her card magic may be immortalized by the following from a letter on this website: The Bicycle Playing Card Company which is the largest supplier of playing cards in the world, requests Madeleine The Magician to perform at their events to do magic with their cards. Recently, after one of her performances for them, to promote their new Bicycle playing Card design to be used in The Poker Tournaments, the Brand Manager said of Madeleine, "I will never get tired of seeing our cards used in amazing ways, and you, were a real thrill."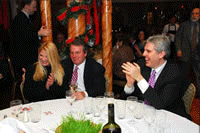 During her performance at your Wedding, Corporate Party, Trade Show, Office Party or Event, she promises you will hear, "WHAT? No Way, No Way! WHAT? HOW?…IT CAN'T BE!" YES, a real thrill for your guests and an experience to remember.
After a Wedding Reception, both the Bride and the Groom had to come over to Madeleine and express their joy. "Our guests were so impressed with your magic that they had to tell us immediately. They could not wait until the end to tell us so."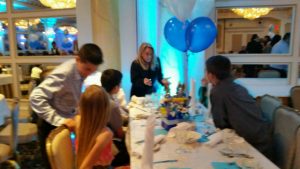 If for your Bar or Bat Mitzvah you are thinking of something that will warm all of your guests' hearts, Madeleine will perform her magic for the Candle Lighting Ceremony that will make you "KVELL"!
In addition at your celebration, MTM will include her Levitation/Suspension in Mid Air. Madeleine will Levitate…Suspend…Float in Mid Air not herself, but the Bar Mitzvah boy or Bat Mitzvah girl. An astounding moment of disbelief performed right in front of everyone's eyes! This is a true fan favorite.
Quoting from one of the many letters on this website, an accolade to Madeleine, comes from one of the Mom's letters sent to Madeleine after her performance at her son's Bar Mitzvah. This Mom wrote, 'Well you certainly know how to handle a room full of wise guys. Those know-it-all, been there, done that, 13 year olds were left with their mouths hanging open."
Finally "The Real Deal" for every kids party: A magician who magically includes the Birthday Child as The Star of his or her party. She includes Dove Magic, her special Levitation/Suspension of the birthday child or another and always includes all of the children with an abundance of Audience Participation.
All of her kids shows will be age and ability appropriate. Another quote from one of the letters on this website says it all: A dad said, "As I mentioned to you after the party, I was truly stunned by the success of your performance. Everyone, from the adults to the older children to the toddlers were involved in and completely entertained by your performance."

Madeleine The Magician is especially aware of one of her gifts and treasures this remarkable gift, more than most. She has been given the gift… the ability…the joy, to reach kids and adults with special needs like learning and emotional disabilities, especially Autism. The Parkside School said of Madeleine in a letter also on this site, "To capture and hold the attention of our special needs children is truly a talent…obviously one that she possesses". From The Jewish Education for Children with Special Needs, "Your warmth and sincerity of our "Special Children" made it possible for all of our children to be involved in and entertained by your performance. The children's big smiles and shining eyes told us how much they enjoyed the show". Madeleine is extremely well known in this community. She has also performed for Autism Speaks, The HASC Schools, The Public Schools, The School for Language and Communication Development, The Pie Schools and so many others.
Madeleine has also performed for organizations that work with adults with autism such as WORC.
Madeleine is known as The Harry Potter Magician for two reasons: she is the magician who performs for J.K. Rowling and secondly, her all Harry Potter related Magic Shows, will make you feel as though you are actually sitting in a classroom at Hogwarts. Wingardium Leviosa!
Madeleine's Magical Marriage Proposal blends Romance and Passion back into a fairytale.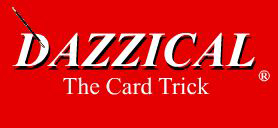 Madeleine The Magician challenges you to play DAZZICAL, her Interactive Card Trick with her. Choose any card and she will reveal it to you.
Sit down, relax, enjoy and play DAZZICAL!
After one of Madeleine The Magician's Night Club appearances, Cabaret Hotline said of Madeleine, "A sleight of hand expert and a great one at that!"
"We watched as classical magic was blended into a unique style." "Her energy and professionalism is a joy and a breath of fresh air." "It is astounding to be sitting in the audience and watching everyone and I do mean everyone, totally captivated and involved". "No one even remotely comes close to the magic that Madeleine The Magician displays both as a magician and as an entertainer."
When Lady Magic Productions, Inc. produced Madeleine The Magician's Off Broadway Magic Show, DAZZICAL Beyond Abracadabra, it was called, "the most complete concept of a Magic Show ever produced."
Just a quick note: Lady Magic Enterprises, Inc. will be producing Madeleine The Magician's expanded show, DAZZICAL. Everyone who MTM has shared this new show with is calling it a Renaissance in Magic!